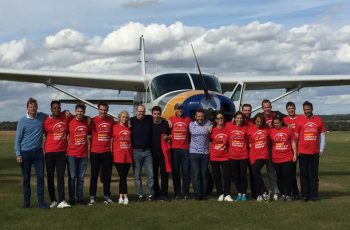 17.12.2019
Big Market Jump
Our inaugural market fundraising challenge saw 17 (almost) willing members of the political risk and credit market leap from 13,000 feet on a tandem skydive. For most, this was a huge step outside their comfort zone and not something they'd repeat in a hurry! In a fantastic team effort, the jumpers managed to double our original target and raise an incredible £20,000 for our chosen charity, London's Air Ambulance.
London's Air Ambulance brings the hospital to the patient when time is critical. On-scene they perform innovative and potentially life-saving procedures usually found in the emergency department. The team, consisting of an advanced trauma doctor, paramedic and consultant can perform treatments such as open heart surgery, blood transfusions and general anaesthetic by the roadside.
Here's a link to our fundraising page.