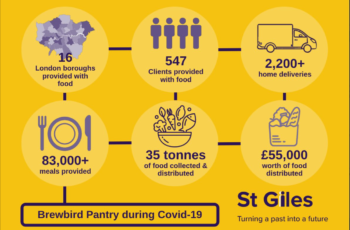 30.09.2020
St. Giles Trust
St Giles Trust, UK
St Giles is a charity using expertise and real-life past experiences to empower people who have been held back by poverty, exploited, abused, are dealing with addiction or mental health problems, or caught up in crime.
St Giles show people there is a way to build a better future and help them create this through support, advice and training.
Since late March, their Covid-19 appeal has raised £280,000, enabling them to offer emergency help during the lockdown.
Many of their clients have lost their jobs and are struggling to afford essentials. Lack of access to technology, compounded by added issues around mental health and substance misuse, means that some of the most vulnerable in society could become increasingly isolated and left behind.
St Giles converted their social enterprise café into a fresh food pantry which now delivers free food to more than 700 clients across 18 London boroughs.  Food parcels are customised for recipients and include cooking suggestions and advice.  They are now hoping to set up another pantry in Leeds.